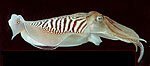 WHERE DOES CUTTLEBONE COME FROM?

All you really wanted to know about cuttlebone:
Cuttlebone comes from the Cuttlefish which has a shell inside its mantle called a cuttlebone. When a cuttlefish dies, this shell rises to the surface of the water and washes up on the beach. These shells, which are sometimes called sea biscuits, are used for our birds as a source of calcium and as beak sharpeners.


More than you ever really needed to know about cuttlefish.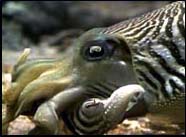 Head on view of the European cuttlefish, Sepia officianalis. Note the protrusions from the skin of the mantle. These are called 'papillae' and cuttlefish use them to change the texture of their skin in perfecting their camoflage.

When I started this article, I was just curious where our cuttlebone comes from and searched for a photo of the fish (which I thought would just be a normal type fish), hoping to find 4 or 5 sentences to write about it.
What I found was a fascinating sea creature in its own right opening up a new area of interest for me.
I hope you enjoy reading about this strange and wonderful creature of the deep.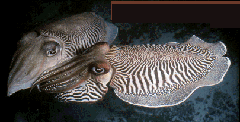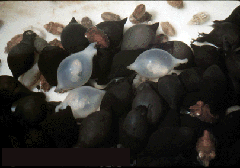 A courting pair of European Cuttlefish, Sepia officinalis. The male (foreground) is guarding the female (background) from other males in this tank system. These are fully mature animals (20-22cm ML) at about one year of age. Note the bold zebra-like striping typical of this species.

Lab laid eggs of the European Cuttlefish, Sepia officinalis. Eggs typically are opaque black due to the female coating them with ink, but occasionally un-inked eggs are laid and the embryos are plainly visible inside. Egg diameter is about 1.5cm.

Thanks go to the National Resource Center for Cephalopods (NRCC) in Galveston, Texas for the use of photo images and Dr. James B. Wood for information on cuttlefish. Please visit them at http://www.nrcc.utmb.edu for more information about Cephalopods and for more information on their cultured cuttlefish, Sepia officinalis, please see the article: Growth, reproduction and life span of Sepia officinalis (Cephalopoda: Mollusca) cultured through seven consecutive generations" by John W. Forsythe, et al. J. Zool. Lond. 233, 175-192 (1994) .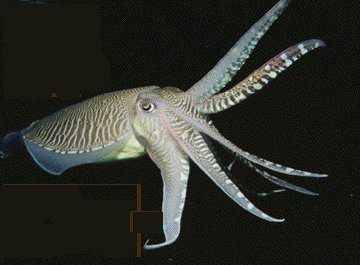 Cuttlefish belong to the cephalopod group as do octopus and squid. Eastern Atlantic waters are the home of cuttlefish from the North Sea to the Cape of Good Hope. The common cuttlefish (Sepia officianatis) also lives in the Mediteranean Sea. There are 80 species of cuttlefish. Large specimens can reach 2 ft. (60 cm) but the common cuttlefish reaches no more than 12 inches (30 cm). Like the octopus, they stay hidden during the day and move around and feed at night. Their lifespan is usually only around 18 months.

The body of the cuttlefish is called the cuttle. It is flattened with fins that extend the length of its mantle. The color of its back varies from brown to violet. Its belly is pale with blue-green specks. The cuttlefish has chromatophores which enable it to change the color of its mantle to match its surroundings. It uses this for protection as it tastes yummy to sharks, whales and porpoises (also people). As in other cephalopods like the octopus, it also has an ink sac in the mantle cavity which it releases whenever it feels threatened.

It will release several puffs of ink while it makes a quick escape using a jet of water from its siphon.

Cuttlefish do not produce as many eggs as the octopus or squid. Females produce around 500 tiny eggs which look like grains of rice. These eggs are laid one at a time and are attached to seaweed or corals. The eggs are not cared for once they are laid and the female dies soon after she spawns.

Cuttlefish eyes have a "W" shaped pupil and are set far apart on the face. In front of the eyes there are eight arms and two tentacles. They keep their tentacles withdrawn in a pouch under the eyes. When extended, they are long and thin with suckers on the flattened end only, while the arms have suckers all along the underside.

They use their tenacles for feeding. Cuttlefish are very cunning and will hide in the seaweed or sand with only their tentacles extended wiggling like fat little worms. The other animals do not notice it because of its great camoflage. When its prey (a small fish) comes close to investigate these "worms", the cuttlefish jets forward and grabs the fish with its arms. Sometimes the cuttlefish simply swims along, using its fins, until it sees a crab or a shrimp. Then it sneaks up from behind and grabs the prey with its suckered tentacles carrying the curstacean to the arms and directed to its hard beak.

The cuttle has another hard body structure besides its beak. It has a shell inside its mantle called the cuttlebone, hence its name. When cuttlefish die, the cuttlebone rises to the surface and washes up on the beach. These shells are used for our pet birds as sources of calcium and beak sharpeners. It has also been used to releive earaches, stomach acid and skin diseases, among other things.

While the cuttlefish is alive, the oval cuttlebone does a lot more than just provide support for muscles. It's small, hollow chambers can fill up with gas and water. By filling and emptying these chambers, the cuttlefish regulates its buoyancy. To sink, water enters the chambers. To rise toward the surface, gas forces the water out of the chambers. The cuttlefish moves about with very little effort with this system. It looks almost weightless with its thin fins waving softly in the water.

Man finds the cuttlefish to be quite delicious. Portuguese, Chinese, and Mediterranean countries eat this fish and say it tastes similar to soft shelled crab. There was a time when the cuttlefish was prized more for its ink sac than for its taste. The ink is called sepia and it was used for writing ink as well as a tint for artists' paints. Most often, the ink of the common cuttlefish (Sepia officianalis) was used. Octopus ink was also used for this. However, it has since been replaced with other substances since natural sepia fades with time.

COMING SOON..................RECIPES!